Advanced Shamanic Training
The Lightning Path – Traditional Inka Shamanic Training
This path is intended for people who have previous training in Shamanism and wish to take their shamanic practice to a new level. It is especially suited to those who wish to pursue a fairly traditional apprenticeship within the Q'ero tradition of Peru.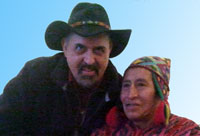 The training consists of a series of workshops and initiations designed to enhance your shamanic consciousness and increase both your power and understanding. The aim of this training is to receive a set of traditional shamanic initiations from the Q'ero tradition of Don Sebastian Apaza.
We offer the teachings of the Q'ero Indians of Peru which we have incorporated with elements of the Celtic and other shamanic traditions as taught to us.
The Q'ero are the direct descendants of the shamanic healers and teachers of the Inca Empire. There are only 600 of them, living in 6 villages high in the Andes. When the Inca Empire was conquered by the Spanish, they retreated into the High Andes, hiding for 400 years in a network of villages above 14,000 feet.  It is only since the 1970s that they have established contact with the rest of us. Since then they have been bringing their original teachings, untainted by the modern world, to us. The high point of a civilisation based upon shamanic principles, Q'ero teachings are a deep and ancient wisdom to our modern problems. They are considered to be the Keepers of Ancient Wisdom of the Inka and of the Inka Prophecies.
We have been privileged to study directly with the Q'ero elder, Don Sebastian Suclle Apaza, receiving key initiations which produce powerful energy shifts and awaken new forms of awareness and power. We have been granted permission by Don Sebastian to pass on these teachings and initiations. It is our privilege to now offer these to you.
Apprenticeship Training
This is not a "course" in the Western fashion. In traditional societies, Shamanism is not taught as a series of courses or workshops, in which the content and schedule is pre-set and into which the people are expected to fit, irrespective of their needs or progress. Traditional shamanic training teaches new skills, as and when students are ready for them. In this sense it is more akin to musical or sports training, in which each progresses at their own pace, and moving to more advanced skills only when one is ready.
Training is divided between Training Days, community events and personal sessions.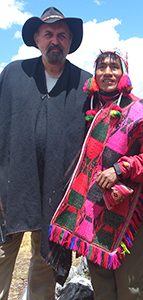 Training Days / Weekends
The topics taught will vary according to the time of year, the issues current within the lives of the apprentices, and each apprentice's own state of shamanic development. In other words, the contents of each training session are customised to your needs.
Training Days are not linked to previous ones, so you can commence apprentice training at any time and do not have to attend every session.
Community Ceremonies
A shamanic apprenticeship is as much a lifestyle as a training course. While Shamanism is often used for therapy, it is much more than that – it is a way of living in a deeper relationship with the world. We hold events for the Equinoxes and Solistices and key phases of the moon. There are also shamanic weddings, naming ceremonies, initiations into adulthood and funerals. Apprentices on this course take an active role in these ceremonies – often leading them. Training is given around these opportunities, giving apprentices the chance to develop their skills as a spiritual leader within their own community.
Personal Training Sessions
Course mentors are available as needed to help with issues which apprentices encounter as they proceed down this path. These are private one-on-one sessions which provide targeted training for each individual, according to their needs and stage of development.
Initiations
The aim of this course is not to attain certifications – but initiations (however there will be a specific advanced shamanic certification upon completion available). Initiations are transformative energy transmissions which provide insight and power to a shaman by connecting their energy body to the energy bodies of powerful spirit beings. The initiations within this path are the traditional initiations of the Q'ero of the Peruvian Andes.
The aim of the classes is to provide skills, perspectives and ways of living which will develop your shamanic skills and consciousness to a point where you can receive the initiations safely.
The people giving this training are not "masters" – merely people who are more experienced, having spent more time on this particular shamanic path. Rather than being "teachers," they are mentors – their task is to aid each student shaman on their own path. In many ways, the teaching modality is similar to that offered a postgraduate research student: you are expected to be able to take care of yourself, to know how to develop, and to merely need the guidance and advice of someone who has been down this path before you. The group will grow together and support each other building a shamanic 'ayni' of friendship.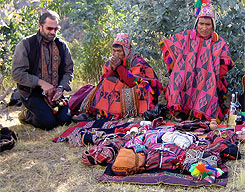 Who should attend?
You do need to have some shamanic training before you attend these classes. If you haven't done any shamanic training before, then you should start with our Medicine Wheel, a one-year foundation in Shamanism.
This training is most suited to people who have shamanic training, which includes some Q'ero Shamanism. In addition to our own Medicine Wheel, this includes people who have undertaken training with Alberto Villoldo's Four Winds Society, or with Don Juan Núñez del Prado, Elizabeth Jenkins, or with one of the many graduates of these schools now teaching their own version of this material; or students who have undertaken training in core or Celtic Shamanism –  all will find this an easily accessible course. Shamanic practitioners or students in other traditions will also find this course of value, though the mentors need to discuss their backgrounds with such students to ensure each understands the other's terminology.
If you're the keeper of a medicine bundle, you're also suitable for this training.
Initiation – The Path of Lightning
The aim of the training is to prepare you to receive the Hatun Karpay initiations of the Q'ero peoples of the Andes, as taught to us by the Q'ero elder and Shaman, Don Sebastian.
Wisdom is a different form of knowing from knowledge. Knowing facts is knowledge, whereas wisdom is in how you think and what you do. Wisdom is not found in books – but experience. Shamanic training is about wisdom. Our modern culture confuses knowledge of facts for wisdom, and has lost the ancient wisdom it once possessed. Indigenous peoples living closer to the ancestral ways have retained the path to wisdom. One way of accessing this wisdom is through the shamanic initiations of the Lightning Karpay.  The Lightning Karpay is a set of initiations which has been used for hundreds of years in the Andes by the Q'ero Indians, the direct descendants of the Inka. The Lightning Karpay brings you to wisdom by awakening your inner powers so that you have a richer experience of your life. The Hatun Karpay are considered to be the Keepers of Ancient Wisdom of the Inka and of the Inka Prophecies. The Lightening Karpay, or "Big Initiation", brings you to wisdom by awakening your inner powers so that you have a richer experience of your life. As transitions and challenges present themselves, you move more gracefully toward a wiser, deeper self, setting a trajectory aligned with your values and inner essence. The Lightning Karpay enhances your interaction with nature and the spirit realms, moving your place in the world from the Western delusion of separateness to an awareness of membership in the community of natural and cosmic beings.
The Lightning Karpay are a set of three initiations which weave the energy fibres of senior Q'ero Deities, mainly varieties of lightning, into your energy body. These Deities include certain Apus (sacred mountains), varieties of lightening and wisdom beings, such as the Nustas. Spread over a series of years, these initiations transform your being and alter the nature of your relationship with the world around you. During this process your shamanic powers and abilities are dramatically enhanced. You move into the fullness of your being and who you truly are.
Initiations consist of a series of ceremonies, and take about one half to one full day per individual person.
1. The Munay (Love) Karpay
Connects you to the earth and opens the heart chakra.
2. The Yanqay (World) Karpay
Brings shamanic power.
3. The Yachay (Lineage) Karpay
Opens channels of wisdom & makes you a traditional Paqo (Shaman) within the Q'ero tradition.  You become a member of the lineage of Q'ero Shamans.
Mosoq Karpay
The Mosoq Karpay is a relatively new initiation (hence the name, which means "New Initiation") for the New Age which has been practiced for about 50 years. It is only given to people who have received the Hatun Karpay. It is not appropriate to reveal details to general public, but it may be described as bringing you to the truth of yourself.
All of the above initiations are currently held by Owen Roberts in Ireland, and have been bestowed unto him by the invitation of Q'ero elder, Don Sebastian Suclle Apaza. Don Sebastian has authorised Owen Roberts to hold these initations and to pass them on as he is guided.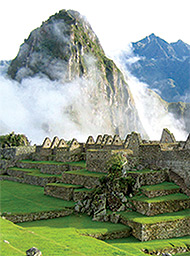 When are the Initiations Given?
These initiations are given when the practitioner is ready, not on preset dates or after acquiring a set of preset skills.  The shamanic keepers are consulted and have the final decision. The minimum period between each of the three initiations is six months, but in traditional Q'ero training, it can take 15-20 years to get them all. It is our expectation that most of the participants on this path will receive one per year, obtaining the full set in three years, but that depends on each person's shamanic development. A gap of one to five years is appropriate between the last of the Hatun Karpay and receiving the Mosoq Karpay.
It is not necessary to receive all the initiations to benefit – each is complete in itself.  Nor is it necessary to get any initiations in order to benefit from this training program.
When a student or the teacher feels the receiver is ready for an initiation, the shamanic elders will be consulted.  If, and only if, they agree will the student be initiated.  These initiations cannot be purchased, only earned.
The training consists of a combination of training course days and regular practices. During course days, specific shamanic techniques are taught. In many cases the techniques require the attainment of specific states of consciousness. Exercises are provided which will produce these states of consciousness.
The topics covered fall into three groups: Theory, Energy Work and Craft
Theory provides the background concepts necessary to understand what is happening during shamanic processes. This is important so that the Shaman can explain things to the people they work with, and also enables the Shaman to modify techniques to new circumstances. Shamanic knowledge also helps one to see through the collective delusions of modern Western culture, many of which prevent psychic and shamanic abilities from functioning by blocking the required forms of spiritual awareness. Theory for the Western Shaman is a combination of psychology (for understanding people) and metaphysics (for understanding the psychic, spiritual, and shamanic realms). Different shamanic traditions have different ways of describing the same thing – a grounding in shamanic theory enables one to translate between the traditions and so understand them all.
Energy Work is the core of Shamanism. It involves perceiving and manipulating the psychic and spiritual energies of people, places, nature and the cosmos.  Shamanic energy work includes journeying to spirit realms, transcending time, manipulating the forces of karma and destiny, psychic communication and healing, soul retrieval, protection, blessings and giving initiations. Energy work also includes dealing with sacred sites and holy places, and walking the earth appropriately. All of this will be taught.
Craft Work relates to the material aspects of Shamanism. Just as in many other professions, there are some physical skills which need to be mastered in order to do the work. For example, drumming at a consistent beat for long periods of time takes practice. Hold the drumstick in the wrong fashion and you'll get cramps very quickly. Your arm muscle will tire out after 10-15 minutes unless you've trained it. The Shaman works with many tools, such as medicine bundles, sacred objects, knives, rattles, water and so on. There are skills involved in finding, obtaining and keeping such objects. The craft aspect of the training will teach this.
How topics are structured.
Some classes will focus on a single area, such as protection or working with sacred sites. Other classes will mix a combination together, such as dealing with "time", in which theory, practice and craft are mixed into a single unity.
Dates
This course is an on-going stream within Green Tara College.
Contact us if you want to be emailed the next dates.
There is no end date for this training. If you wish to aim for all four initiations, you are contemplating a path for the next 4-5 years, maybe longer. This is as much a lifestyle as a course. You are not expected to attend every event, though some who wish to dedicate their life to their shamanic path may profitably do so.
Mentors
(throughout the training we will have guest facilitators also)
Dr. Owen Roberts , PhD(P'aqo)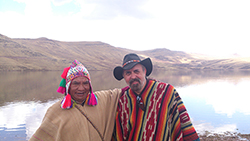 Originally of Welsh origin, Owen has studied Tarot, Hermeticism, Kabbalah, Jungian Psychoanalysis, Mythology and Shamanism. He has also studied psychic healing at the London College of Psychic Studies. Having studied Tarot for over 30 years, Owen developed and teaches our highly successful Diploma in Professional Tarot Reading. Owen Roberts is a graduate of the Four Winds Shamanic Institute with certificates in Healing the Light Body, Soul Retrieval and Destiny Recovery. He studied Despacho work under the Peruvian P'aqo (or Shaman) Don Sebastian for 4 years, and received from him the Hatun Karpay, which qualifies him as a P'aqo – together with Don Sebastian's blessing to pass these initiations on. Owen's work has been to fuse traditional Shamanism with the Western traditions of Kabbalah and Hermeticism.  Owen has a PhD in Western Philosophy.
Questions
Owen will be happy to have a chat with you over a cup of tea or via telephone if you have any questions. You are also welcome to email first. To contact Owen it is best to text first to arrange a time to chat on 0868635241. Thank you.
How do I book a place?
In order to book a place please REGISTER by clicking the REGISTER FOR THIS COURSE button.
You can check your booking, then click PROCEED TO CHECKOUT. 
Methods of payment
Card  –  via the website.
Paypal – if you have a Paypal account.  Paypal will also let you make a card payment without a Paypal account.
Google Pay – if you are currently logged into your Google or Gmail account, this option will be offered to you.
Apple Pay – if you have an Apple account, this option will be offered to you.
A place on the course cannot be guaranteed without payment.
Currency
You can pay in dollars, Euros or pounds.  The website will automatically convert prices into your local currency.  You can also change currency with the button on the bottom left of the webpage.
Create an Account
You have the option to create an account with us.  This will save you from putting in all your details the next time you book a course.
Remember your card details
If you create an account, you can get the system to remember your card details for next time.  We do not hold your card details.  They are held by the card processing company (Stripe).  The system cannot hold your card details unless you create an account.
Don't want to pay online?
If you are uncomfortable paying online, you can phone the office (046 90 60 600) and they will make the booking for you and take your card details over the phone.
Please email Majella for an application form or drop an email confirming attendance with your details to majella@holistic-training.com