Hot Stone Massage Training Course
Practitioner's Certification in Hot Stone Massage
Choice of  in-house classroom or 

live Zoom training
Dates for Hot Stone Massage

You will have access to videos of the techniques and the treatment also via Moodle.
October class via Zoom Live training
October:   Saturday 02    (09:00-18:00) – Zoom
October:   Sunday  03     (09:00-18:00) – Zoom
€275.00- includes videos, extensive manual & Moodle support
(Discounted fee of €250.00 available to GTC graduates, returning learners as a thank you and members of professional associations-scroll to end of page

Hot Stone Massage Course Overview
Hot Stone Massage at Green Tara College is a postgraduate training course. It can be taken by people who wish to learn to use Hot Stone Massage  to practice professionally or for personal use on friends or family.   Even if you do not have a basic massage, but hold other qualifications in the holistic field,  you can gain insurance with Hot Stone Massage.  The course includes the use of hot and cold stones.
This course is open to all trained therapists: Reflexologists, Massage Therapists, Indian Head Massage Therapists, Aromatherapists, Beauty Therapists, Sports Massage Therapists – to anybody holding a Holistic Therapy Diploma.
Energetic Hot Stone Massage
In this course –  unique to any other Hot Stone Massage course in Ireland – we teach you the energetic practice of Hot Stone Massage and chakra balance with crystals. You can then choose whether you feel drawn to work this traditional way. Our teaching is a true Hot Stone Massage (not massage techniques using the occasional hot stone).  Day one is the basis of  learning hot stone, day two repeats the full body practice and incorporates the energetic principles.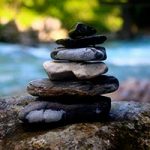 The aim of this course is to train you to the  highest level. By the end of this course you will have a confident, detailed and broad knowledge of Hot & Cold Stone Massage and how to carry out a complete treatment.
Holistic practitioners will be fully capable of entering the world of the professional Hot Stone Massage Therapist with confidence and expertise, safely and with confidence.
The course consists of an intensive two-day workshop: 9.30 am – 6pm 
Assessment: There will be written & practical assessments on the day of the workshop. You will get to give and receive two supervised, full Hot Stone Massage treatments over the two days.
Qualifications
Green Tara College Practitioner Certificate in Hot Stone Massage.  In order to gain insurance to practice with the public, you  must hold a recognized Diploma in  Anatomy & Physiology. this  enables you to gain insurance to practice and join professional bodies. You can also learn Anatomy with us after the course. We recommend the Business & Professional conduct module also.
This training  is also accredited for CPD awards with IRIL & NRRI
Course Contents
At Green Tara we pride ourselves on our Hot Stone Massage Training where we not only look at the massage procedure – but energetically work with the stones and ancient traditions which are the origins of this therapy.
History & philosophies of Hot Stone Massage
Using ancient Native American traditions and Hot Stone Massage
Explanation of specific techniques used
Understanding the various Hot Stone Massage strokes
Safety and temperature when handling the stones for self and clients
Contraindications and common ailments – when not to treat and when extra caution is needed
Hot Stone Massage for the full body including feet, hands and face – which can be adapted for reflexology, facials etc.
Energetic techniques of clearing and balancing the client's energies
Care, cleansing and storage of the healing stones
Connecting with the stones and learning to 'interpret' the massage
Working with the stone energy
Sealing in energy – Grounding energy/Therapist protection & safety
Client Care and professionalism
Possible client reactions
Therapy Space/Therapist Insurance
Equipment Needed
The College will provide all the necessary teaching equipment.
The equipment that you will need is minimal and includes:
Four bath sheet towels and two hand towels – any colour for class
Antibacterial hand gel
Equipment wipes e.g. Dettol or Liddl's
Hair band, hair tied up, short nail
Tea Towel, good and thick x 2
2 white single flat bed sheets (day 2)
Orange, Red or Purple Bath Sheet (can be one of the 4 towels)
We will be massaging the face so you may want to bring your own unique makeup remover
A copy of your previous body diploma if you hold one, and Anatomy Diploma
Continuous support available after the workshop.
How do I book a place?
In order to book a place please REGISTER by clicking the REGISTER FOR THIS COURSE button.
You can check your booking, then click PROCEED TO CHECKOUT- you do NOT need a PayPal account to Pay.  When you get to the final payment page SCROLL DOWN and you will see the PAY with CARD ONLY option
Methods of payment
You can pay by any method which you prefer.  We will email you a booking receipt which contains the instructions for your choice.
Card  –  via the website online (you do not need a Paypal account), we are using paypal as a method but you do not have to have an account you can pay that way by card.
Telephone – if you are not comfortable paying by card online, we can telephone you and take your card details over the phone or you may phone us directly on 046 9060600.  This option is not available for Installment Payments.
Cash – you may arrange to call to the school to pay in person, it is best to telephone first
Cheque or postal order: You may post to Green Tara College, Tara House, Top Floor, 28/29 Trimgate Lane, Navan, Co. Meath. C15 W8NY.  You may wish to register post especially if it is a postal order. Make the payment out to Green Tara College.
A place on the course cannot be guaranteed without payment.