Cancer Care Massage in Oncology
Dates: October:  Wednesday   18th &  25th  in school -10.00am-5.30pm (inhouse)




This post-graduate massage course covers full body massage especially prepared for Oncology massage clients at all various stages of treatment.
We teach you how to adapt the massage as needed depending on the needs of each individual clients.
You will learn the cautions when treating and when not to treat.
You will learn what to expect.
You will learn a lovely massage focused on nurturing with lymph drainage adaptations.
All course supported with free access to notes and guided videos by Majella of the practicals on our Moodle educational system after the training for a minimum of 1 year
You must hold a Diploma in any type of full body massage – Holistic, Swedish, Ki, Lomi-Lomi, Thai or Sports (if you learned Swedish Full Body in your Sports Massage).
Oncology massage training
This training includes a nurturing full body routine streamlined for Oncology clients.
It includes an extensive manual with all the information and professional Certification.
Here is an overview of the content:

Benefits of Massage for Cancer, physically, mentally, emotionally, spiritually,
• Cautions, contraindications and safety in treatments, when not to treat.
•How to treat with confidence and how not to cause any harm
• Possible side effects of Cancer Treatment General
• Specific side effects of chemotherapy, radiation and all cancer treatments
• Catheters and Ports in cancer treatment
• Dealing with an ostomy bag
• Safety cautions for performing massage at various stages of treatment
• Adapting the practical massage for various stages of treatment
• What the massage therapist may encounter when touching the clients body
• Massage Adaptations and creating the massage plan to meet individual needs
• Understanding the clients cancer journey and working with whichever stage of cancer they are going through, adapting to individual needs
• Positioning clients appropriately to meet individual needs e.g. (Performing massage during radiation & chemotherapy, Alopecia, Scalp Issues, Chemo and hair loss, Anxiety- emotion states, Peripheral neuropathy Constipation, Oedema, Fatigue, Hand & foot Syndrome, treating immunosuppressed clients, Pain, Lung and breathing difficulty, Headache
• How to adjust working massage pressure as needed
• Equipment
• The consultation process
• Extensive Oncology theory-what is cancer, symptoms, tests for diagnosis, treatments, side effects
Deluxe Reflex foot & lower leg massage with Reflex hand & arm massage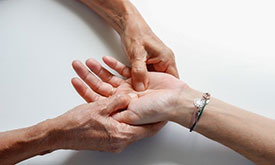 Learn to offer a deluxe Reflex massage with your treatments.
Gain Reflexology & Massage CPD points
Superb addition for all massage therapists, aromatherapist, reflexologists, beauticians.
Open to all who would like to learn these techniques for personal use.
A treatment to really boost the body and the immune system with lymph drainage technique.
Open to students of Reflexology, Massage, Aromatherapy, Beauty and the general public
PHONED THE OFFICE ON 0469060600 TO BOOK