Indian Head Massage Training Course
Certificate in Indian Head Massage
2023 January: Saturday 14 & Sunday 15
Support:  This course is supported with free video recordings of the techniques which you will have access too, an extensive manual and we use the Moodle online system for notes and  for free videos. This is very easy to access.
Indian Head Massage is an ancient Ayurvedic healing system practiced all over India for thousands of years by those from everyday man and his family to royalty.
As the head holds many pressure points relating to the rest of the body – particularly to the emotional centers in the brain, Indian Head Massage is particularly effective for emotional/mental stress.
At Green Tara College we pride ourselves on the unique and beautiful Indian Head Treatment that we teach.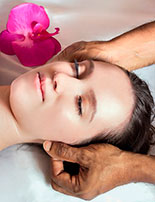 Our Indian Head Massage has been taught and refined over twenty years to be a truly, deeply holistic treatment that is on a unique level. We teach you to balance chakras, to clear energies and to bring the spiritual aspects to this treatment. People who have taken this course with us report that once their clients have had this Indian Head Massage, they will never go to anyone else! How do we know? People who have studied with us tell us again and again – and again.  The better your treatment, the more clients you will have and the more clients who will stay loyal to you. Excellence matters, holism matters – energy balance matters.
Subjects covered
Massage of upper back
Massage of shoulders
Massage of upper arms
Massage of neck
Massage of head/scalp
Massage of face
Sealing in energy (yours and the client's)
Grounding & clearing energy (yours and the client's)
Contraindications and ailments
Client Care and professionalism
Client reactions
The spiritual aspects of Indian Head Massage which you can decide to use in whatever way suits you
Qualification
Green Tara Post-Graduate Certificate in Indian Head Massage.  This award is recognized and you can gain insurance.
You can progress onto the ITEC Diploma in Indian Head Massage if you choose.
Note
This  Indian Head Massage course can be taken by anybody for many reasons, to practice professionally as a therapist offering Indian Head Massage and/or for  personal and family use or even to see if you like doing massage etc. You do not need any previous qualifications or experience to take the class with us.
However in order to practice professionally and offer the treatment to the public,  you would need to study or already hold a recognized Diploma in Anatomy & Physiology and ITEC Unit 22 Professional Conduct and Business Awareness to legally practice and gain insurance cover.
If you do not get to practice straight away and forget some of the movements, you are welcome to sit the class again at any stage for a small fee of €50.00 only. This applies to people who have taken the course with us.
If you have already taken training in Indian Head Massage at another school and would like to up-skill and take our in-depth class, we offer a discount to you (we need a copy of your previous qualification).
What to Bring to the Workshop
2 bath towels, 1 bath sheet towel & 1 hand towel
Hand/baby wipes
Antibacterial hand gel
Hair band & hair ties if you have long hair and a fringe
We will be massaging the face so you may want to bring your make-up remover
Short  finger nails
A  T-shirt with straps that you can take down over your shoulders
A copy of your previous holistic diploma that includes anatomy  if you hold one
(Lunch– You are welcome to bring a packed lunch or to go out to the many cafes. We will take a 1 hour lunch break.)
Payment Buttons: if you are entitled to a discount please put in the coupon code professional25 on your final payment only and the system will automatically process for you.
Course Dates – places available-booking now-places limited
September:  2022- Saturday 24th & Sunday 25th – (10.00am – 6pm) In-house live training
Course Fee: €275.00
(discounts to GTC graduates & students, return learners and members of  professional associations – special offer €250.00)   If you are entitled to a discount please put in the coupon code professional25 on your final payment only and the system will automatically process for you.
How do I book a place?
In order to book a place please REGISTER by clicking the REGISTER FOR THIS COURSE button.
You can check your booking, then click PROCEED TO CHECKOUT. 
Methods of payment
Card  –  via the website.
Paypal – if you have a Paypal account.  Paypal will also let you make a card payment without a Paypal account.
Google Pay – if you are currently logged into your Google or Gmail account, this option will be offered to you.
Apple Pay – if you have an Apple account, this option will be offered to you.
A place on the course cannot be guaranteed without payment.
Currency
You can pay in dollars, Euros or pounds.  The website will automatically convert prices into your local currency.  You can also change currency with the button on the bottom left of the webpage.
Create an Account
You have the option to create an account with us.  This will save you from putting in all your details the next time you book a course.
Remember your card details
If you create an account, you can get the system to remember your card details for next time.  We do not hold your card details.  They are held by the card processing company (Stripe).  The system cannot hold your card details unless you create an account.
Don't want to pay online?
If you are uncomfortable paying online, you can phone the office (046 90 60 600) and they will make the booking for you and take your card details over the phone.