Introduction to the Psychology and Philosophy of Carl Jung
9-week evening course
September 26, 2022 – December 5, 2022
2 hours, every Monday, via Zoom
Carl Jung is one of the most influential psychologists in history.  His discoveries are fundamental to many complementary and spiritual therapies.
Jung's work shows the importance of spirituality for human well-being.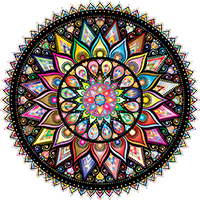 Jung discovered the underlying patterns which all religions share and how they reveal the inner dynamics of the human mind.  Understanding Jung enables us to understand many aspects of society, to see the inner truths all religions share, and to understand the psychological crises many people suffer from in this modern world.  An understanding of the theories of Carl Jung is essential for a holistic understanding of the person.
Jung's insights are seen in the design of Tarot cards, many spiritual beliefs and our modern understandings of how the mind works, the importance of myth and legend, and the dynamics of human societies.
Jung's work is not just theoretical.  Jung provided methods of self-development through dream work and painting.
This course will provide a quick and easy overview of Jung's amazing insights.  It assumes no prior knowledge.
The course covers the main elements of Jung's wide-ranging discoveries.  The course will include practical exercises in Jung's most important techniques for self-discovery.
Topics
Jung's life, Jung and Freud – from best friends to bitter enemies
The structure and dynamics of the human mind
The Collective Unconscious, Archetypes & Symbols
The path to self-realisation – The Higher Self, the Ego and the Shadow
Dynamics of mental energy
Numinosity, the Participation mystique, Shamanism and Religion
Mythology, religion & spirituality
Practical Jung – Dream work
Practical Jung – Mandalas
All classes are recorded so you can re-watch or catch up if you miss one.
Dates
September 26, 2022 – November 28, 2022
26 September 2022
03 October 2022
10 October 2022
17 October 2022
24 October 2022
BANK HOLIDAY MONDAY – 31 October 2022 – NO CLASS
07 November 2022
14 November 2022
21 November 2022
28 November 2022
Class Times
GMT (UK, Ireland): 20:00
Central European Time (CET): 21:00
Irish Time: 8pm
USA – see the list below for your state
Europe – see the list below for your country
US Class Start Times for each US Timezone:
Each class is 2 hours.
European Class Start Times for each country

Each class is 2 hours.
About the Tutor
This course is taught by Dr. Owen Roberts, PhD.  Owen has three degrees in Western Philosophy and has studied Jung's work extensively.  He has used Jung's techniques for self-discovery for most of his life.  Owen incorporates Jungian techniques throughout his shamanic and Tarot training courses.
How do I book a place?
In order to book a place please REGISTER by clicking the REGISTER FOR THIS COURSE button.
You can check your booking, then click PROCEED TO CHECKOUT. 
Methods of payment
Card  –  via the website.
Paypal – if you have a Paypal account.  Paypal will also let you make a card payment without a Paypal account.
Google Pay – if you are currently logged into your Google or Gmail account, this option will be offered to you.
Apple Pay – if you have an Apple account, this option will be offered to you.
A place on the course cannot be guaranteed without payment.
Currency
You can pay in dollars, Euros or pounds.  The website will automatically convert prices into your local currency.  You can also change currency with the button on the bottom left of the webpage.
Create an Account
You have the option to create an account with us.  This will save you from putting in all your details the next time you book a course.
Remember your card details
If you create an account, you can get the system to remember your card details for next time.  We do not hold your card details.  They are held by the card processing company (Stripe).  The system cannot hold your card details unless you create an account.
Don't want to pay online?
If you are uncomfortable paying online, you can phone the office (046 90 60 600) and they will make the booking for you and take your card details over the phone.