Shamanic Drumming for Journey Work with call-back
Here are two 20-min drum journey tracks.  You can use these for your shamanic journeys into the Upper and Lower Worlds.  They include call-back near the end.
Pick the drum voice which suits your journey style:
Little Drum Singing
Little Drum is a traditional hand-held Mongolian triangular drum.  She has a higher toned, smaller, voice. She carries the spirit of a small, but fast, horse.  But she travels fast…
Deer Drum Singing
Deer Drum is a traditional deer hide drum of the Plains Indian style of Turtle Island (North America).  Deer Drum sings in a slightly deeper tone, and a little more slowly.
Want to learn more shamanism?
If you would like to learn to journey into the spirit realms and meet with the spirit beings, check out our Foundation in Shamanism course.
If you can already journey, and want to become a shamanic practitioner, check out our Intermediate Shamanism course.
About the Drummer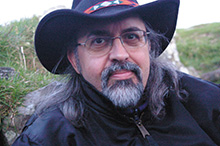 Originally of Welsh origin, Owen studied Core Shamanism in Australia and worked in the Aboriginal community. While in Australia he also studied Tarot, Hermeticism, Kabbalah and Jungian Psychoanalysis. He studied psychic healing at the London College of Psychic Studies.  Having studied Tarot for over 35 years, Owen developed and teaches our highly successful Diploma in Professional Tarot Reading.  Owen is a graduate and former employee of the USA's Four Winds Shamanic Institute with certificates in Healing the Light Body, Soul Retrieval and Advanced Shamanism. Owen also has a PhD in Western Philosophy and a BPhil from the Pontifical University.  Owen's work has been to fuse traditional shamanism with the western traditions of Kabbalah, classical mythology and psychoanalysis.
Owen studied traditional Despacho ceremony under the Peruvian P'aqo (or shaman) Don Sebastian Succlle Apaza for 8 years and has received from him the Mosoq Karpay initiation which qualifies him as a P'aqo in the Don Sebastian's tradition.  Owen continues to study under P'aqos from that region.
"I am honored to receive the profound wisdom embedded in the Quechuan understanding of life.  It is a privilege to bring this wisdom to our students.  The P'aqo Nan, path of the P'aqo, is a profound approach to healing of self, community, and our relationship with nature. My aim is to make this wisdom accessible to all while staying as true to it as possible." 
Student review:
"Owen,
I will take any course you teach! You have a wealth of knowledge and your courses are taught in a clear and thorough manner while fairly priced and packed with valuable resources. I most appreciate your professionalism and approachable teaching style (your honest, no bull shit, practical approach to teaching and your openness to questions and your patience and kindness to all students)." – Sarah
Courses Taught: