Practitioner's Certification in Fertility Reflexology
Live ZOOM  interactive & supervised recognized training.  You can gain insurance and CPD. 

February 2023:  Wednesday 8th Theory  (7-10pm)
February 2023:   Wednesday 15th Practical (6-10pm)


You will have access to videos of the treatment techniques and the treatment also via Moodle following the course

Unique training based firstly on practical elements then with Majella's unique methods for working spiritually and energetically with Fertility Reflexology

You will have the opportunity to join our Reflexology Practitioner's What's App Support Group

The first class is the extensive theory of Fertility Reflexology, the second class is Practical.

You will have a person to work on at home if possible.



If you wish to pay for the course in full add deposit and the balance payment to your shopping basket. See the Cost section below for discount eligibility and payment details.

Course Overview
This is a post-graduate training course in Reflexology.
The knowledge can be used by people who wish to learn to apply reflexology techniques for Fertility in both male and females.
"I have just completed Fertility Reflexology with Majella, this is my third course in Fertility Reflexology  with other teachers, as I have a huge interest in it. I have to say this one was on another level completely.  Brilliant easy to understand notes written in a very concise form.  The actual Reflexology techniques for Fertility Reflexology are simply amazing and work on connecting with the client through the energy systems of the body through Reflexology.  You can actually feel the stress leaving the client's body.   I have worked on a few people already and all commented how relaxed and balanced they felt afterwards.  I am really excited about using all the new techniques going forward in general reflexology also. " –  Daphne G. (professional reflexologist)
Working Professionally as a Reflexologist, I have found it to be an essential post-graduate training qualification in order to be a successful therapist. This feedback and course has come from our own experience and from 20 years of graduate feedback.
Reflexology has a major reputation for 'helping people become pregnant' through increasing the body's readiness to become pregnant. Reflexology is renowned for helping people who have had difficulty in conceiving for many, many years. It is also renowned for helping women conceive when there is no known medical reason for difficulty in conceiving. It is excellent at complementing fertility medical programmes and increases the chances of becoming pregnant greatly. It is excellent for males who have conception issues and brings the body back into balance on physical, mental, emotional and spiritual levels.
"I really enjoyed this course and learned so much. I was delighted that this course was via zoom because I could fit it around my schedule and no travel was involved. I found this definitely suited my situation and Majella helped me to feel connected when doing the practical. The course is very concise with the theory being thoroughly researched. In addition, most importantly I could see clearly what was going on in the practical via close up video. I felt very connected as we were guided through the practical. After experiencing this course with Majella, I intend to book further courses with her." –  Bernie M. (Reflexologist)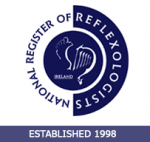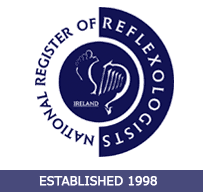 The aim of this course is to train you to  the  highest level. By the end of this course you will have a confident, detailed and broad knowledge of Fertility Reflexology and how to carry out a complete treatment. You will have confidence and expertise. You will also have unique new energetic techniques which enable you to connect the endocrine glands and free stagnation of energy. Your Reflexology  practice  will be greatly enhanced.
Qualification
Green Tara College Post Graduate Certificate in Fertility Reflexology.
Recognized by the Irish Reflexology Institute, NRRI, AOR and Health Insurance Companies
You will receive a detailed manual and professional post graduate Certificate
CPD points for IRIL, NRRI, FHT &  AOR  which include  practical reflexology CPD points.
"Fantastic course. All parts of the training, both theory and practical, were covered in great detail and explained so well by our brilliant teacher Majella. I've already booked my next course with them!"  Carol D 
Your clients will be able to claim back from Health Care Companies if you are a member of a professional reflexology association.
Course Content
Through Majella' s experience of over 30 years in this field she has developed, practiced and recorded results through working with clients while using the practical aspects and the unique energetic principles that we offer. This is a truly superb training which includes connecting anatomical systems and organs through various reflexology techniques. This is essential in assisting to help the body to prepare for successfull  reproduction. You will have a thorough training in the physical and practical aspects alongside the energetic and emotional aspects of fertility issues. Other general courses will only teach you the practical aspects of Fertility Reflexology. You will find that your results as a reflexologist will be greatly improved and much better-rounded in a true holistic manner when treating for Fertility issues. You will have clarity on how to apply the methods.
What is infertility?
General Causes of infertility
Causes of infertility in women & men
Causes of recurrent miscarriage
The diagnosing of infertility within the medical model
The knowledge of treatment options within the medical and holistic models
Understanding Assisted Conception
Understanding any complications regarding providing a Fertility Reflexology treatment
Energetic Essential Principles: Working to prepare for the womb for  incoming  soul through reflexology
Aims of the reflexology treatment in Fertility
Combining treating with Reflexology for females &  males, working with the couple
Explanation of specific techniques used and four hours of exchange practice in class
Advanced Reflexology techniques which increases your knowledge base
Clearing stagnant energy with reflexology , increasing low energy in a reflex, releasing built up energy in a reflex
Contraindications, cautions and common ailments
Sealing in energy/Grounding energy, clearing energy, increasing energy in reflexes
Looking after and harnessing your own energy/chi during treatments
Client Care and professionalism
Energetic connections of the organs and emotions
Possible client reactions/ Relevant Home Care Advise following the treatments//Therapist Insurance
"This was an amazing course. The opportunity to study with Majella and gain access to a wealth of knowledge and techniques that aren't readily available elsewhere was too good to miss. The college culture is friendly and professional. The zoom training is well carried out, everyone has a chance to receive feedback on their techniques and ask questions. The video training aids are professionally made and clear. Handouts and extensive further study is available on the Moodle system accessed through their website. Having the option to study online and via zoom means that overseas students such as myself can gain access to study that would not have been previously available to us and it is endorsed by leading professional bodies in various countries, so insurable. Majella is also available outside of the class times to answer any queries and there is an active Whatsapp group of friendly students from many walks of life including professional midwives. I cannot thank the team enough for making me feel so at home here. I immediately signed up for the maternity reflexology course which wa equally good and I am now a regular student." – Susan R.
Course Fee
Normal fee: €165.00
Special offer €150.00 to  GTC graduates & members of  IRIL, NRRI, AOR & FHT  members (use the discount code professional  at the checkout when buying the full course or when paying the balance).  To buy the full course add the 2 products to the basket.  If paying a deposit only, the balance must be paid within 21 days.

How do I book a place?
BOOK a place by clicking the REGISTER FOR THIS COURSE button.
You can check your booking, then click PROCEED TO CHECKOUT. 
Methods of payment
Card  –  via the website.
Paypal – if you have a Paypal account.  Paypal will also let you make a card payment without a Paypal account.
Google Pay – if you are currently logged into your Google or Gmail account, this option will be offered to you.
Apple Pay – if you have an Apple account, this option will be offered to you.
A place on the course cannot be guaranteed without payment.
Currency
You can pay in US dollars, Euros, British pounds or 5 other currencies.  The website will automatically convert prices into your local currency.  You can also change currency with the CHANGE CURRENCY button on the left of the webpage.
Create an Account
You have the option to create an account with us.  This will save you from putting in all your details the next time you book a course.
Remember your card details
If you create an account, you can get the system to remember your card details for next time.  We do not hold your card details.  They are held by the card processing company (Stripe).  The system cannot hold your card details unless you create an account.
Don't want to pay online?
If you are uncomfortable paying online, you can phone the office (046 90 60 600) and they will make the booking for you and take your card details over the phone.
If you would like to have a chat about the course please contact Majella Fagan on 0868635241 or 0469060600. Email:
majella@greentara.ie
Course Teacher
Majella Fagan, BSc, BA
Majella has spent 25 years as a professional reflexologist and has been serving on the Irish National Professional Reflexology Institute (IRIL) as a committee member and educational officer for many, many years. Majella originally started teaching with the IRIL schools and trained through IRIL. Majella is honoured to be the current Chairperson of the Institute.
Majella has been refining and writing reflexology training for all these joyful years and has trained with many world respected teachers among them being: Beryl Crane, Hanne Marquerdt, Moshe Kruchik Biderman and Inge Dougans.
Majella lectures in Spiritual Holistic Health and the Psychology of Holism alongside Celtic Spirituality. One of her specialties (much in demand) is energetic emotional reflexology.
Majella hosts groups here in Ireland for spiritual holistic work from all over the world. People travel from all over Ireland and UK/Europe due to her unique and grounded teaching, which is first embedded on the physical aspects and then it built upon with the energetic principles of reflexology. Majella is known for the high standard and unique aspects of her training that comes from a wide knowledge that only occurs due to on-going experience and never-ending professional development training.
Majella and our tutors are trained in many holistic therapies and all are ITEC & IRIL approved tutors.