Divination with Norse Runes
An Introduction to Norse Runes & Mythology
Open to all
– no previous study or experience necessary 
Runes are an incredible divination tool but can also be allies, advisers, used for protection, blessings and many other. They have been used in divination, for ceremonial purposes and writing since over 2000 years. The ancestral connection through the Runes is very strong and they can be a powerful addition to one's spiritual work.
To understand the Runes and build a connection, a basic understanding in Norse Mythology, the gods and the values of the ancestors, is essential.
This course builds on creating this basic understanding, the personality and character of each Rune and will also introduce basic systems of rune divination.
By the end of the course you will have an understanding of the Runes, the gods and how to continue building a relationship with them going forward. This course is intended to help you build a connection to the Runes and to see if they build a connection with you in return. You will learn to work and care for your Runes, how to include them into your day to day life and use them as guides on your spiritual journey in this life.
As the knowledge on the Runes is very comprehensive, this course will be give you the basis from which you can develop further.
The course will also introduce easy systems of rune divination.
Handouts will be provided.
By the end of the course you will
have an understanding of the Runes, the gods and how to continue building a relationship with them.
built a connection to the Runes.
learnt how to work with and care for your Runes, how to include them into your daily life and use them as guides on your spiritual journey.
use the Runes for divination and to help you in your daily life.
You can bring your own Rune set. If you do not have a set, a set will be provided for you to use on the day. You will also be able to purchase hand-crafted Rune Sets on the day.
Course Content
Basic introduction into European Settlement history – Who were the Germanic and Norse tribes, where did come from, what were their society structures and beliefs?
Galdr, Seiðr & Spá-Craft – Divination, spiritual and magical work had a very important part in old Norse societies and the people practising it were respected and feared. Learn about the magical songs of Galdr and ancient practices of Seiðr and Spá-Craft. Runes are seen by the majority of people as an ancient alphabet but are more like ancient beings, which each have a distinct personality and work with you if you build a connection with them. They can be advisers or used in a more active way. In the ancient practices of Seiðr and Spá the Runes were used for divination, to communicate with the gods but also to change destinies, protect or curse. You will gain a brief introduction into possibilities and responsibilities of working with Runes. There are 3 different main Rune alphabets which are the Elder and Younger and the Anglo-Saxon Futhark. In this course, we will focus on the Elder Futhark.
Introduction into Norse Mythology – This will be a basic introduction into the creation of the world after Ginnungagap, the nine worlds of Yggdrasil and their connection to our realm.
The gods and the goddesses – Be introduced to Odin (Wodan), Freya, Frigg, Freyr, Thor and other major gods of Asgard. This is an introduction to the main deities of the old Norse Pantheon. After being introduced to the main goddesses and gods, we will do a guided journey to see which of them connects with you and will aid you in your work going forward.
Runes  – The Runes are connected to the deities. Working with this connection deepens your relationship with them. As part of learning the Rune alphabet, we will include practical exercises, which include Stadhagaldr (Runic Yoga), Rune poems, chanting and Rune meditation. We will learn the Runes which are connected to forces of Nature and other higher beings. Runes have many layers of meaning and the art of learning Rune craft is to develop an intuitional understanding on how to read them. In order to communicate with the Runes, the Runester (or Vitki) has to understand the essence of each Rune.
Norns, Giants, Dwarves, Trolls, Elves and Vettir – Nature Spirits, Elementals and beings of fate were as much part of the ancestor's lives as the gods. Get an introduction into their personality and role and the Runes connected with them.
Rune reading systems – after getting an understanding of the Runes and the Norse Mythology, we will start to practise rune reading systems. I will explain interpretations of the Runes in set and random readings. We will practise them with each other and you will learn how to continue your practise at home. A key part of this work will be learning how to build and deepen your connection to the Runes and your own personal Rune set.
Equipment
You can bring your own Rune set and will also be able to purchase handcrafted Rune Sets on the day.
Practice sets will be available during class.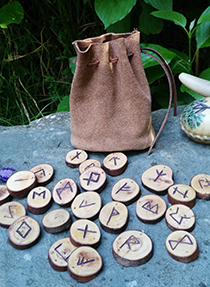 Handcrafted Rune-Sets
Runes made in the traditional manner.
The handcrafted Rune-sets are ceremonially crafted out of wood.
How the Runes are made, by Ayanna Raiha
"Both the type of wood used, and the place it is gathered from, are important for powerful objects, such as Runes. I gather branches which are broken off by the storm or similar and freely given to me by the tree in places where I do ceremony and in exchange of offerings, such as seeds, flowers, special stones or similar. Different trees have different aspects such as the oak, the strong, masculine wisdom-keeper versus the beech, which is a tree of ancient female goddess-wisdom attributes. The Hawthorne holds the connection to the elemental realm and the ash and yew connect the different worlds.
The rune discs for one set should be all cut out of the same branch. They need to be cut and sanded by hand and engraved in one ceremony. In the end I oil them with natural linseed oil and, if the new owner wishes, do a ceremony connecting the owner to their Rune set or teach them how to do this for themselves."
A handcrafted Rune-Set will be available for people doing the course for € 50 in a fabric pouch and € 60 in a leather pouch.
Ayanna Raiha
This course will be taught by Ayanna Raiha, a shamanic Practitioner, Reiki Master and Diet and Nutritionist. As part of her own spiritual path, she has been learning and practicing Celtic, Andean, Germanic and Norse shamanism. Born in East Germany but living in Ireland since 15 years, the latter sings strong in her blood and the Runes have been constant advisers and guides in her life over the past years.
Her connection to Nature, the land and ancestral knowledge is very important to her which is why she is also currently training as a Master Herbalist.
The training takes place in two modules.
You must do Runes 1 before you can do Runes 2.
Dates for Norse Runes 1, 2020
10am – 6pm
March: 28-29 (Sat.-Sun.)
Dates for Norse Runes 2, 2020
10am – 6pm
May: 02-03 (Sat.-Sun.)
How do I book a place?
In order to book a place please REGISTER by clicking the REGISTER FOR THIS COURSE button.
You can check your booking, then click PROCEED TO CHECKOUT. 
Methods of payment
Card  –  via the website.
Paypal – if you have a Paypal account.  Paypal will also let you make a card payment without a Paypal account.
Google Pay – if you are currently logged into your Google or Gmail account, this option will be offered to you.
Apple Pay – if you have an Apple account, this option will be offered to you.
A place on the course cannot be guaranteed without payment.
Currency
You can pay in dollars, Euros or pounds.  The website will automatically convert prices into your local currency.  You can also change currency with the button on the bottom left of the webpage.
Create an Account
You have the option to create an account with us.  This will save you from putting in all your details the next time you book a course.
Remember your card details
If you create an account, you can get the system to remember your card details for next time.  We do not hold your card details.  They are held by the card processing company (Stripe).  The system cannot hold your card details unless you create an account.
Don't want to pay online?
If you are uncomfortable paying online, you can phone the office (046 90 60 600) and they will make the booking for you and take your card details over the phone.