ITEC Diploma in Sports Massage

The Most Comprehensive & Thorough Training in Ireland
Sports Injury & Swedish Massage

NOT CURRENTLY AVAILABLE
Our next Sports Massage Course will become available October 2021.
Contact us if you want to go on the waiting list.
Course Overview
The ITEC Sports Massage training course is intended for those who wish to train to work with injuries and Sports Massage. It is an academic qualification that is recognized all over the world.
The course covers Sports Massage & the treatment of injuries in-depth.
The aim of this course is to train you to a very high level. By the end of this course you will have an extremely detailed and broad knowledge of Sports Massage
Students are presented with the theory and practice of Sports Massage – from pre-event, post-event and maintenance for treating sports injuries and acute stress.
Upon successfully completion you will be fully capable and confident of entering the world of the Professional Sports Massage Therapist with internationally recognized qualifications: ITEC Diploma in Sports Massage, GTC Certificate in Energy Management & Awareness (optional choice).
For existing practitioners Sports Massage is an excellent addition to your present practitioner skills, thus widening the scope of potential clients for your clinical practice.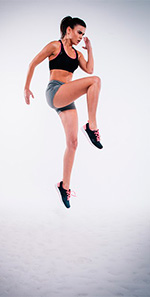 You have the option of attending the Energy Management weekend (no extra fee) and learning about the Holistic & spiritual aspect of being a therapist and the energetic impact of injuries and pain on the human body, mind & spirit. This weekend has a strong emphasis on personal development, energy protection and the understanding of ourselves –and thus our clients in 'life'. It is a firm favourite with all students.
Course Content:
Advanced Anatomy & Physiology specific to Sports Massage
Sports massage techniques
Causes & effects of diseases and disorders and their effects on sports
Principals of training and effects of over training
Principals & effects of force and motions
Principal of injury prevention & management
Management & care of the spine, joints & limbs
Rehabilitation training, principles of stretching, using mediums to support improvement
Effects & symptoms of inflammation, scars, adhesion
Contraindications & considerations to sports massage
Treating injury treatment, pre-event, during/between event, post event, corrective, preventative, conditioning massages
Plenty of practical & theory including case studies, examination and preparation classes
Energy management, awareness, people skills and treating injuries from an energetic perspective (optional module)
Business and marketing skills are included so you can become fully equipped to earn a living within the Sports & Injuries field.
Course Schedule & Books
Books: The Concise Book of Muscles Sports & Remedial Massage Therapy by Mel Cash
Holistic Massage & Anatomy Module: (you may be exempt if you already hold this module qualification)
see holistic massage page for 3 options to choose from.
Energy Management: Optional – free course
Case Studies: 5 people x 3 times = 15 hours – & actual time at sports events practicing your work
The overall qualifications are as follows:
ITEC Diploma in Holistic Massage (Swedish)
ITEC Diploma in Sports Therapy Level 5 (level 3 UK)
ITEC Diploma  in Sports Injury Massage Level 6 (Level 4 UK)
ITEC Diploma in Anatomy & Physiology for sports
ITEC Certificate in Professional Business for sports
Green Tara College Certificate in Energy Management
Green Tara College Diploma in Holistic Healing Massage and Sports
How do I book a place?
In order to book a place please REGISTER by clicking the REGISTER FOR THIS COURSE button.
You can check your booking, then click PROCEED TO CHECKOUT- you do NOT need a PayPal account to Pay.  When you get to the final payment page SCROLL DOWN and you will see the PAY with CARD ONLY option
Methods of payment
You can pay by any method which you prefer.  We will email you a booking receipt which contains the instructions for your choice.
Card  –  via the website online (you do not need a Paypal account), we are using paypal as a method but you do not have to have an account you can pay that way by card.
Telephone – if you are not comfortable paying by card online, we can telephone you and take your card details over the phone or you may phone us directly on 046 9060600.  This option is not available for Installment Payments.
Cash – you may arrange to call to the school to pay in person, it is best to telephone first
Cheque or postal order: You may post to Green Tara College, Tara House, Top Floor, 28/29 Trimgate Lane, Navan, Co. Meath. C15 W8NY.  You may wish to register post especially if it is a postal order. Make the payment out to Green Tara College.
A place on the course cannot be guaranteed without payment.
S
PECIAL OFFER
Sports L3 & L4 –
€1495.00 (normally €2495.00)
Earning all these qualifications:
ITEC Diplomas in Sports Massage Level 3 & Level 4 UK,
ITEC Diploma in Holistic Massage Level 3
ITEC Diploma in Anatomy & Physiology Level 3
ITEC Diploma Business Level 3
GTC Certificate in Energy Management-optional free course
(not including exam fees of €360.00 in total)
For Level 3 Sports only, the course fee offer is €995.00-normally €1495.00


includes

Holistic Swedish Massage and Anatomy
Payment Structure – ITEC Sports Massage Diploma Level 3 & 4
Fees can be paid for in installments- €450.00 deposit, then €350.00 a month till paid

The overall qualifications are as follows:
1. ITEC Diploma in Massage , Anatomy & Physiology, Business & Client Care, ( all Level 3 UK/Level 5 Ireland)  GTC Energy Management & Awareness Certificate. (optional free course)
2.  Sports Massage L3 & L4   (Level 5 & Level 6 Ireland)
In the current financial climate we are delighted to be able to offer students the opportunity to pay by monthly installments at no extra cost
Each installment is completely non-refundable
Students are welcome to pay off the fees as quickly as they wish- pay fee and exam fees up front and receive €100.00 discount of course fee